Description
Experience the Solar System like never before! Hold this in the palm of your hand while it gives you a complete 360 Degree view of our universe. This 3D Solar System Crystal Ball creates a highly realistic view of all of our planets like it would be in real life. All are labeled with a beautiful white engraving.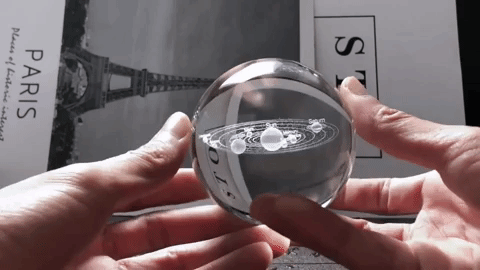 Made with K9 crystal, an option of 3 bases, gold, silver, or crystal square base. Each piece is perfect for home decor. Additionally, this can be a gift for a loved one or just a present for yourself!
What makes this crystal ball so special?
Perfectly spherical glass crystal ball
Laser-engraved Solar System Model
Makes a beautiful and unique decorative piece in any location
A great option for a gift idea of any occasion (Birthday, Valentines, Christmas, Mothers day, etc..)
Great educational tool for school
Perfect for lovers of astronomy and science
Specification
Size: 6cm x 6cm
Ball Material: K9 Crystal
Base: K9 crystal or metal plated base of golden or silver color