HYDRATION

 

ON-THE-GO!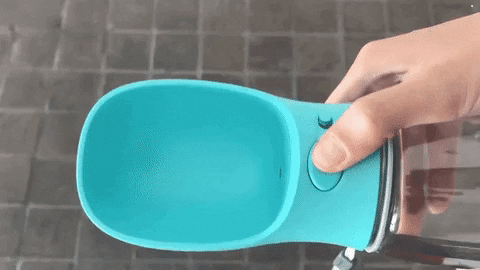 "My wife and I have tried many pet water/bowls for traveling. This one is by far the best! It doesn't leak, it's all in one and best of all you can drain the water back into the bottom if your dog doesn't drink it all. Best purchase of this type we have made!" - Chris, purchased May 21, 2020.
⭐️⭐️⭐️⭐️⭐️
----------------------------------
WHY YOU NEED THIS

✅ Hydration on-the-go for your dog
✅ Simple, one button design, zero waste
✅ No more mess from regular water bottles!
EVER TRIED TO HAVE YOUR DOG DRINK WATER FROM A REGULAR WATER BOTTLE? IT'S A MESS! 
That's where the Doggos Finest™ Portable Dog Water Bottle comes in! 
Built to directly dispense water into an attached dog bowl, hydrating your pup is almost as easy as it is at home. With a mouth wide enough for most breeds, you can be sure it will work for all the pups in your home.
With a simple one-button design, you can open the water flow with just your thumb. If your pup doesn't drink all the water you've poured, there's no wastage - simply tilt the bottle back and press the same button to have the water return to the reservoir.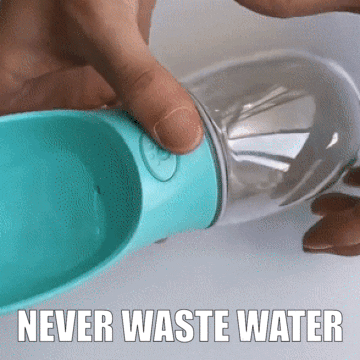 ⏩ Quick & Convenient -- Fill the water bottle before going out with your dog, unlock the nozzle with the easy unlock button when your dog is thirsty, and hold down the dispense button giving your dog access to the water it needs
⏩ Leak-Proof Design -- One-key lock water and sealing rubber ring effectively prevent water leaking. Never worry about your bag getting wet ever again!
⏩ Truly Portable -- Its compact form allows the bottle to fit anywhere whether it's your backpack, duffel bag, or anywhere else! Includes an easy to install wrist strap that will allow you to carry around the bottle without worrying about holding it!
⏩ Save Water -- Simply press the dispense button while holding the bottle upright and the water goes back into the bottle. This way, your dog will always have enough water!
⏩ Quality Materials -- High-quality antibacterial food grade ABS material, FDA approved, lead-free and BPA-free
⏩ 100% Satisfaction Guarantee -- We offer FREE replacements in case of any damage up to 30 days after receiving products. We guarantee that our quality is top notch and you can rely on a fast response to any questions you have. If there are any problems with our products, you can request for a refund anytime within 30 days of delivery, no questions asked!